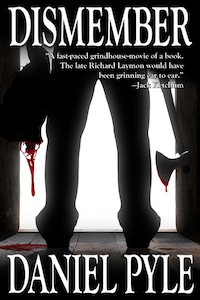 eBook
Hardcover
Paperback
The summer he turned seven, Davy Abbott survived a gruesome mountainside car accident that left the rest of his family dead.
Now, after living twenty-three years with the twisted backwoodsman who pulled him from the wreckage, Dave is carrying out a plan to replace each of his lost loved ones with members of nearby, unsuspecting families. He's been stalking and preparing, and now the chance has finally come to get his family safely out of the mountains once and for all.
Whether they like it or not.

What they're saying about Dismember:
"Dismember's a fast-paced grindhouse-movie of a book with plenty of unexpected twists and turns and a fresh new crazy for a villain. The late Richard Laymon would have been grinning ear to ear."
—Jack Ketchum, multiple Bram Stoker Award-winning author of Off Season and The Girl Next Door
"With Dismember, Daniel Pyle joins the select group of authors who can provide real chills and genuine surprises. Taut, weird, and intriguing."
—Jonathan Maberry, New York Times bestselling author of The Joe Ledger Series
"The tourniquet-tight plot and constant suspense keeps the pages flying. A solid, suspenseful thriller that enables readers to envision the movie it could become."
—Publishers Weekly